Sono Clinic
Profile of Dr. Mizuhiro Sono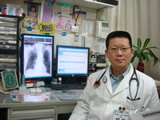 Dr.Mizuhiro Sono graduated from Nihon University School of Medicine in 1986.He attended residency training in internal medicine at Kobe University Hospital and Kasai City Hospital.
In addition to western medicine training, Dr. Sono furthered his study in acupuncture and oriental medicine and sports medicine.
Since his training, Dr. Sono had worked in private practice with Dr. Hiromitsu Sono in the Kato City Hyogo area.

The medical practice of Dr. Sono includes internal medicine, rehabilitation, pediatric service, oriental medicine, and acupuncture.
Dr. Sono is a member of Japanese Society of Internal Medicine as well as a certify member of the Japan Medical Association's Sports Health Physician and Industrial Health Physician.
Medical Service
Primary Care
Internal Medicine Problems
Heart Diseases
Respiratory diseases
Metabolic Diseases
Endocrine Diseases
Gastrointestinal Diseases
Check Up
General physical
School physical
Employment physical
Vaccinations
Influenza, DPT, Polio, Measles, Mumps, Chickenpox, Hib((Haemophilus influenzae b type), Pneumococcal, Hepatitis B, Hepatitis A, HPV(Human Papilloma Virus) (Cervarix:cervical cancer vaccination)
Address
20-1 Higashikose, Kato City, Hyogo, Japan
673-1423
Tel: (0795)42-6299, Fax: (0795)42-6290
Mail: sonoclinic@sono-clinic.com
Office Hour
Mon~Sat 9:00~noon
Mon, Tues, Wed, & Fri 16:00~19:00
Language
In addition to Japanese, we can provide medical service in English and Chinese (Mandarin and Taiwanese)